---
---
---
---
---
---
---
---
---
---
---
---
---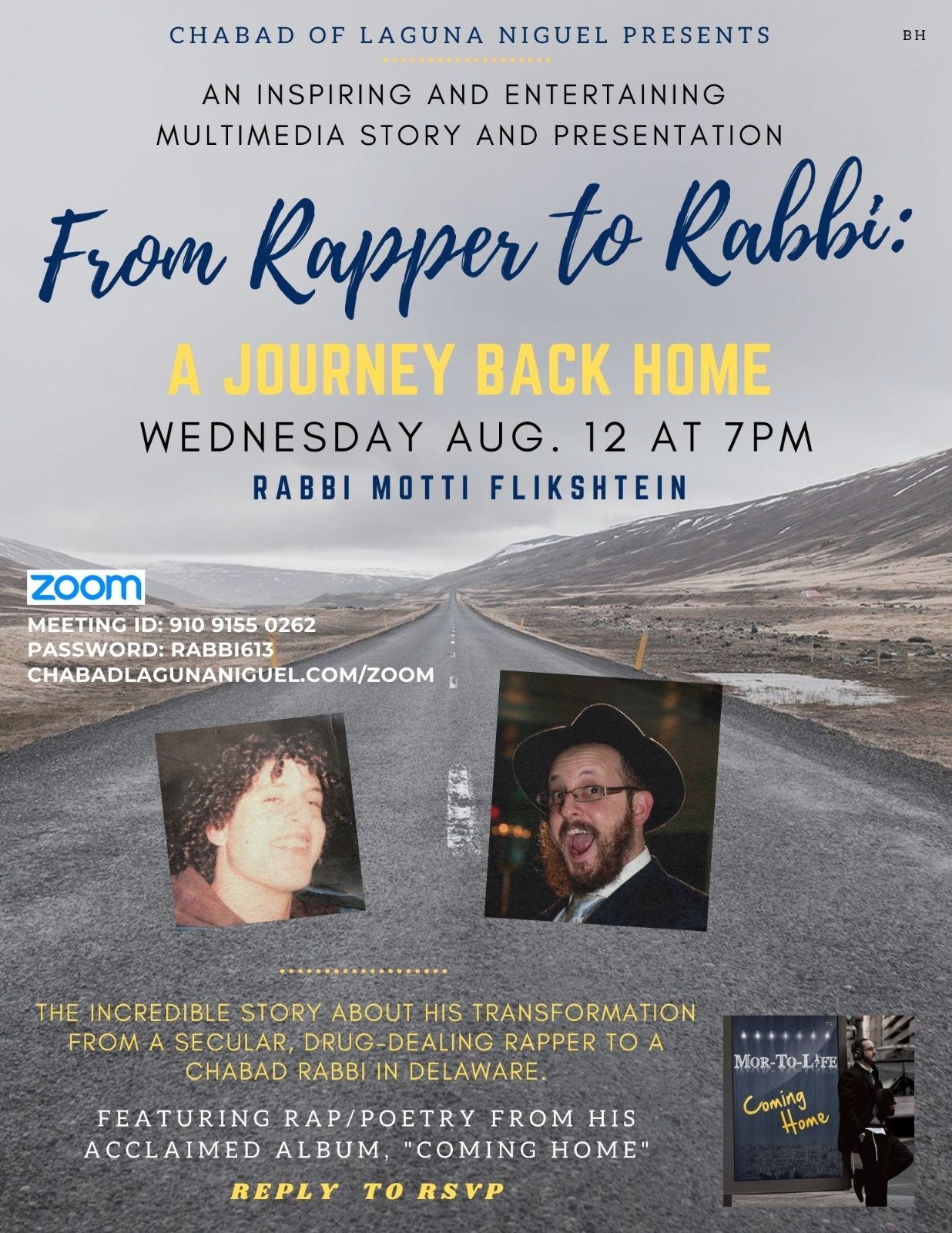 ---
---
---
---
Click on
for pictures!
---

Join us on the eve of Tisha B'Av* for a screening of the new, highly acclaimed documentary
"In Our Hands: The Battle for Jerusalem!"
(preview trailer here)
Monday July 31, 6:30-9: 00pm
The 2 hour film will be followed by the Tisha B'av 
reading of Eicha, the book of Lamentations. (approx. 20 min)

All are welcome free of charge. Please reply by email to let us know you'll be attending.
 
*Tisha B'Av commemorates the day of the destruction of both Temples in Jerusalem.
Over the course of history, the 9th of Av has seen numerous tragedies befall our people.
May we merit to celebrate Tisha B'Av together with Moshiach, 
with the rebuilding of our third Holy Temple, AMEN!
---
---
On Monday August 1st, we're letting our sheriff's department know how appreciated they are!
Will your children be there?
To be received with our group, advance registration is required.
From 3:30pm - 4:00pm meet at Chabad to wrap cookies, and create personal thank you cards. Supplies provided.
If you are unable to be at Chabad at 3:30, you may meet us at the Sheriff's office with your own cards. Be sure to arrive there no later than 4:30 to be received with our group.
Click here for pictures
Click here for video
Laguna Niguel Police Services is located at at City Hall
30111 Crown Valley, Laguna Niguel. (Entrance is at left corner of building)
---
---
Sat. Night, July 25, 2015
Eicha Reading & Movie Screening 9:00 - 10:00 PM
FREE OF CHARGE - RSVP REQUIRED
"With My Whole Broken Heart"
A New Documentary
In the summer of 2001, two Jewish teenagers were hiking near their homes in the West Bank when they were stoned to death by Palestinian terrorists. A few months later, Daniel Pearl, a reporter for the Wall Street Journal, was kidnapped and murdered in Karachi, Pakistan; his last words: "My father's Jewish, my mother's Jewish, I'm Jewish."
With My Whole Broken Heart is a professionally-produced and emotionally-gripping 45-minute film featuring heart-wrenching stories of valiant parents whose children's lives were claimed by terror and their inspiring responses to their horrific experiences. The documentary also follows the lives of two of the youngest survivors of Auschwitz and Buchenwald who emerged from the darkness and transformed the Jewish landscape.
The film is framed around the Rebbe's response to the 1956 terror attack in Kfar Chabad that claimed lives of 5 students, and features interviews with Daniel's parents, Ruth and Judea Pearl; Sherri Mandel, mother of Kobi Mandell; former Israeli chief rabbi, Rabbi Yisrael Meir Lau; and Rabbi Nissan Mangel.
Click to
---
To learn more about Tisha B'Av & the 3 weeks, click HERE .
---
TISHA B'AV

This Tuesday, Aug. 5th, is the fast of Tisha b'Av (the 9th of Av), the day we mourn the destruction of the first and second Temples.

Join us on

Monday, August 4, 2014

Evening Prayers

@  8:15 PM

Reading of Eicha - Book of Lamentations

@  8:30 PM
 

   Halachic Times for Laguna Niguel:
   Fast Begins on Monday evening at 7:49 PM
   Fast Ends on Tuesday 8:14  PM

---
For more about Tisha B'Av, click here.
What happened on the Ninth of Av?
A Historical Overview

The 9th of Av, Tisha b'Av, commemorates a list of catastrophes so severe it's clearly a day specially cursed by G‑d. Another confirmation of our deeply held conviction that history isn't haphazard.

As part of our mourning for the destruction of the Temple and the exile of Israel, we abstain from many pleasurable activities on the night and day of Av 9, first and foremost: eating and drinking.

Order of the Day
A Step-By-Step Guide to Tisha b'Av Observance

The Separation Meal, the Book of Lamentations, elegies, prayers, Torah Readings, the break-fast, and more.
---
History
The Destruction of the Temples

The Holy Temple
Virtual Tour of the Holy Temple

Insights
Thoughts and Reflections

Multimedia
Audio and Video
---
An Evening of Tribute

Marking the 20th Yahrtzeit of The Rebbe

Thursday July 10, 2014
12 Tammuz, 5774
Program at 7:30 PM


At
Chabad of Irvine
5010 Barranca Parkway
Irvine, CA 92604
The program will be followed by Farbrengen (inspirational gathering).    
  Keynote address by

  RABBI LAIBEL GRONER

  Personal Secretary to the
  Lubavitcher Rebbe for
  over 40 years
Rabbi Laibel Groner has served in the capacity of personal secretary to the Rebbe for over four decades.
He is an acclaimed speaker, renowned scholar and communal activist. Rabbi Groner has traveled extensively all around the globe on numerous occasions, inspiring, uplifting and counseling.
Rabbi Groner will share some of the behind the scene moments he experienced as a secretary of the Rebbe and many of the stories he witnessed first hand.
PERSONAL REFLECTIONS
on the Rebbe through the ages.
Hear from Orange County Rabbis, including our very own Laguna Niguel's Rabbi Mendy Paltiel, about their interactions with the Rebbe and learn about the transformational growth of Chabad in OC through the decades.
70's


Rabbi Yitzchok Newman


Hebrew Academy

80's


Rabbi Dovid Eliezrie


Chabad of Yorba Linda

90's


Rabbi Zalman Marcus


Chabad of Mission Viejo

00's


Rabbi Mendy Paltiel


Chabad Laguna Niguel

10's


Rabbi Zevi Tennebaum


Chabad of UCI
VIDEO PRESENTATION:
Marching Orders
A short inspirational film focusing on the Rebbe's revolutionary vision of the essence of every Jew and the infinite value of every mitzvah.

Cost: Prepaid (by July 8) $15 | $18 @ the Door

Sponsor: $180 sponsorship includes dinner and Q&A with Rabbi Groner as well as VIP seating.
Or call 949.786.5000 • Or e-mail [email protected]
---
A Joint Project of:

Chabad of Aliso Viejo • Chabad of Irvine • Chabad of Laguna Beach
Chabad of Laguna Niguel • Chabad of Los Alamitos • Chabad of Mission Viejo
Chabad of Newport Beach • Chabad of North Irvine • Chabad of North County - Yorba Linda • Chabad of Rancho S. Margarita • Chabad of San Clemente
Chabad of South Huntington Beach • Chabad of Tustin • Chabad of UCI
Chabad of West Orange County - Huntington Beach • Shul by the Shore
Hebrew Academy
---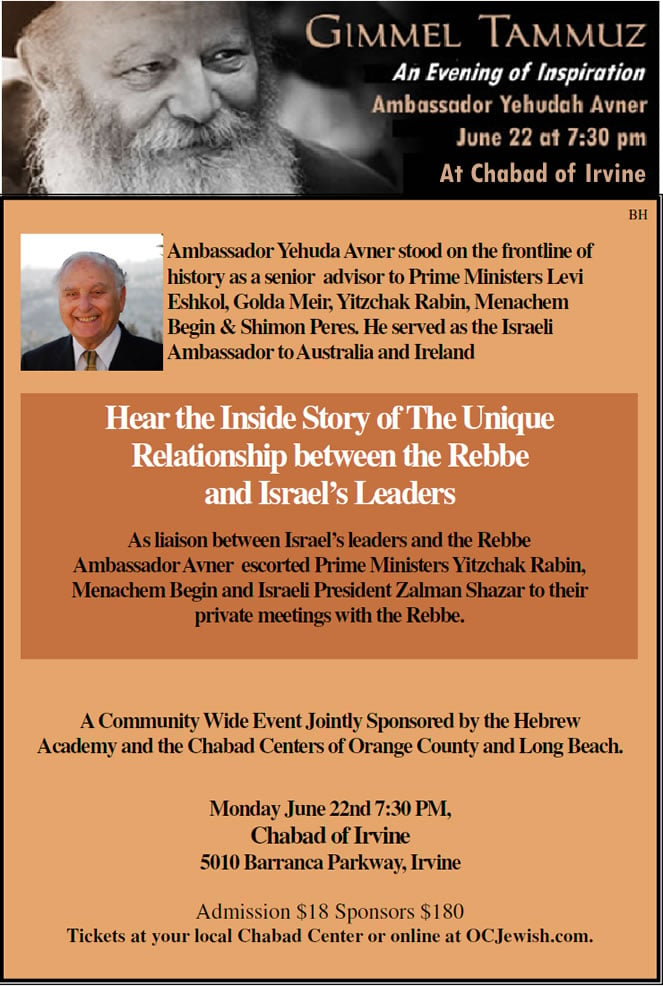 ---
TEFILLIN & TEHILLIM FOR ISRAEL
  Thursday, July 24 at 6:00 PM
Our hearts are with Israel. We have lost 32 of our finest and many more are wounded, while our brothers and sisters in Israel are still being bombed daily, and anti-Semitism has erupted around the world.
We need to get together and pray for our soldiers and for Israel's safety. As the Talmud says, "We can only rely on our Father in Heaven".
Please come on Thursday, July 24 @ 6:00 PM to the Chabad center for some Torah study, Tefillah-prayer, and Tzedakah-chairty.
The men will don their Tefillin (please bring along your Tefillin if you own a pair), and all of us, men, women and children, will recite Tehillim (Psalms) together. An inspiring video presentation of the Rebbe speaking about the safety of Israel will be shown.
May G‑d Almighty answer our prayers for Israel's security, and for a true and lasting peace with the imminent arrival of Moshiach!
*See THANK YOU video from the soldiers for the letters we wrote & sent them.
---
---
The video presentation that was shown at 
Chabad's "Chai 5" Celebration:
(for event pictures click here)
---
What can the
Jewish Business Connections
of Laguna Niguel
help me do?
- Grow your business. Find new opportunities &        connections. 
- Hear from guest lecturers - experts in their fields. 
- Network within a safe and friendly community.
- Connect with business owners and professionals.
Coming Up:
Business Networking Event &
Lunch and Learn
  "Monetizing Your Web Presence"
With Pete Johnson
  At the Chabad Jewish Center of Laguna Niguel
27631 La Paz Road; Laguna Niguel, CA 92677
Lunch will be served 
 Pete Johnson has over 25 years of experience in marketing communications.  He was part of the creative team that launched Armor-All products; put racquetball on the map as a major American pastime; and contributed to dozens of successful marketing campaigns as a strategist and creative force. He's been recognized by the Western Book Publisher's Association, OC Press Club and won numerous awards for his contributions to regional, national and international marketing and publishing efforts.
$20.00 in advance ~ $25.00 at the door 
For more information contact:
Alexandra Kaplan at [email protected] 
 Connect with Jewish Business Connections on:
LinkedIn JBC on LinkedIn ~ Facebook JBC on Facebook ~ Groupsite JBC on Groupsite
---
Scroll down for photos & video clips!
Rabbi Paltiel Introduces Leon Leyson:
Leon speaks about Oscar Schindler:
Leon Takes Questions:
  Click Here to view photos of the event!
---
Chabad of Laguna Niguel Proudly Presents
The Highly Acclaimed
-
Featuring Rabbi Shmuli, the "Pickle Rabbi"
What Makes a Pickle Kosher, Anyway?
Learn the History of the Great American Kosher Dill
& Make Your Own Jar of Pickles!
It's all happening at: Chabad of Laguna Niguel
27631 La Paz Rd #D
Laguna Niguel, CA 92677
So, What is a Kosher Pickle Making Factory?
"Kosher Pickle Making Factory is one the most creative educational programs I've seen lately", says Phil Parker of MarcusAdvertising.com.
Get a whiff of your heritage! Kosher is so much a part of our lives, but how much do we know about it?
Learning how to make the great American Kosher dill, while discovering the pickles amazing history, is sure to excite the taste buds of any pickle lover. But, what makes a pickle kosher? This and many other questions will be answered during the night of Kosher Pickle Making at Chabad Laguna Niguel.
"People will have the chance to personalize their own pickles", says Rabbi Mendy Paltiel, executive director of Chabad Jewish Center. "The program is going to answer a lot of questions people have about kosher".
The highly acclaimed Kosher Pickle Making Factory workshop was created two years ago by Rabbi Shmuli of Los Alamitos and has since been on tour at over 150 cities nationwide. The Kosher Pickle People claim you'll never look at a pickle the same way again!
See for yourself!